Weddings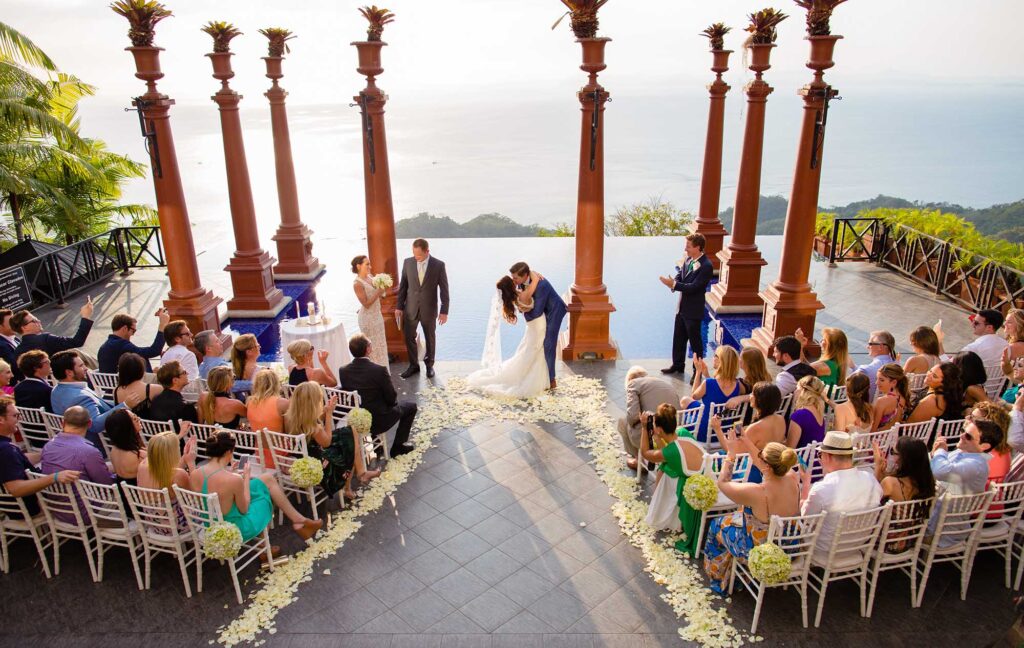 Weddings in Costa Rica
Are you planning a wedding in Costa Rica!! Congratulations!! It is sure to be one of the most amazing days of your life.
From sensational beaches and breathtaking sunsets to lush rainforests, Costa Rica offers a beautiful setting for your special day. The destination wedding industry is well established in Costa Rica, and you'll be able to coordinate every special detail with an experienced wedding planner. The Tamarindo area is known for near perfect weather and stunning beaches – life here is a little piece of paradise. It's the perfect place to escape and celebrate your wedding with family & friends.
VIP Tamarindo can help you plan and create your dream day. From booking vacation rentals for you and your guests, to recommending venues, to helping you facilitate the various logistics such as transportation, we will be there every step of the way.
We can help plan a bachelor or a bachelorette party to remember and can also schedule a day of pampering at our highly rated spa for the bridal party to relax either before or after the event.
The sky really is the limit – talk to us about your dream wedding and we will help make it come true.
Requirements for getting married in Costa Rica
Getting married in Costa Rica is a simple and straightforward process with only a few requirements, making Costa Rica one of the easiest countries for your destination dream wedding.
Costa Rican law stipulates that two witnesses (non-family members) attend the wedding. They must provide copies of their passports and a statement of civil status, nationality, address and occupation. On the day of the ceremony, two documents will be signed by bride/groom and witnesses: a sworn statement is required to attest that they know the couple and that the bride and groom are each entering marriage by their own will and are each legally able to be married (they are both single).
It is not necessary to reside in Costa Rica for any period of time before getting married. The documents brought by you don't have to be translated into Spanish, and you don't need to bring the original copies.
The bride and groom must be in Costa Rica at least 2 days prior to the wedding, in order to finalize the necessary paperwork, and the ceremony must be scheduled at least one month in advance.
You don't need to apply for a marriage license from your home country or in Costa Rica. According to Costa Rican law, women do not change their last name when they get married. In the legal documentation and in your marriage certificate, your names will appear as they currently appear on your passports. You can start the process in order to change your last name in your Country of Residence if you wish to do so when your marriage certificate is sent to your Country.
A certification of marriage is issued by the Civil Registry of Costa Rica and translated by an Official Translator, and authenticated by our own Foreign Ministry, and finally notarized by the Consulate (or Consular Offices) of the country you reside in. This procedure is done strictly following Costa Rican as well as international laws that regulate these matters, thus ensuring full validity of your marriage back home.
Validity of marriages
In Costa Rica, only priests, judges and lawyers are legally authorized to perform a marriage ceremony. If you wish to have a religious, but non-Catholic, wedding ceremony, a judge or lawyer must also be present to make the marriage official. Civil marriages legally conducted in Costa Rica are valid worldwide. It takes about three months for the Costa Rica Civil Registry to issue your marriage certificate, which your lawyer will have translated and then sent to your closest consulate or embassy to be authenticated. Be sure to stop by your local city hall or equivalent government office, and request the requirements for registering a marriage conducted abroad.
Special requirements for women
If a woman has been divorced or is a widow, she can only remarry after 300 days have elapsed from the official issuance date of her divorce decree or her former husband's death certificate. She can waive this requirement if she proves that she is not pregnant before her marriage ceremony. To do so, she must take a pregnancy test administered by the Supreme Court of Costa Rica at the Forensic Medicine Office.
What documents do I need to get married in Costa Rica?
A valid passport is required for the bride, the groom and each witness, valid for at least six months. Copies of each are required for the notary prior to the ceremony.
Original birth certificate.
Certificate of marital status.
Police record.
If anyone, groom or bride, has been married previously, a photocopy of the final judgment executing the divorce.
These documents need to follow the authentication procedure before being brought to Costa Rica. This means you must take or send these documents to a Costa Rican Embassy in your country BEFORE you come. They will attach tax stamps and return the documents to you. A lawyer can perform the required legal ceremony.